We want to get to know you and your company. Your dreams are the start of our journey to your success. When we look at the ways we can integrate mobile applications with Internet and Data Bases, we see the world of opportunities opening before our eyes. The IoT (Internet of Things) has major opportunities and opens new possibilities.
Handheld devices use scannable codes to track people, tools, items and anything that needs to be recorded. Examples include tracking luggage as it gets on or off an airplane, pick up and delivery of packages by couriers, tools taken and returned to took kit rooms.
Tell us your ultimate dream of where you would like to see your company. Your only limitation is your imagination.
Your Dream is our Mission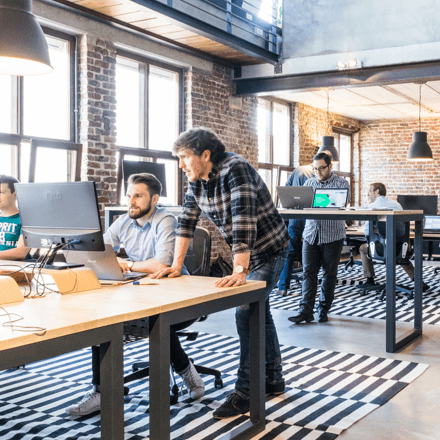 We Are your one Stop Communications Consultant
We have the knowledge and expertise so you don't have to.
Today, with Telus, Bell, Rogers and Shaw we see an ever changing and competitive world. There are so many options and plans available. Ashar does the background work to ensure companies are getting the best products and plans for their business.
Voice over IP systems (VoIP) have shown that communications from outside as well as inside a business are fundamental to business success. What are the technologies every business must have and what are the Pit-Falls that must be avoided?
We Search Out the Best Deals and Opportunities for you
We partner with multiple companies to find the best solution for your specific needs.
Cloud-Based Communications means you are always available to take that important phone call. Whether on your desk phone, soft-phone on your cell phone, tablet or computer screen, you are not tied to your desk. Your office is anywhere you are.
Enterprise PBX features are available through the centralized platform that gives you the flexibility to administer your system – as you like. With your computer screen, you will be able to move, name and change the calling features for each extension. You can set up Hunt Groups – decide how incoming calls are routed, ie – to an extension or hunt group with multiple extensions. Call forwarding can be set up to internal or external numbers.
Your phones are tools that make you successful. Questions are answered and orders are received.
Ashar Communications has relationships set up to work with the suppliers to give you the best communications services at the most economical price available.
Call us today to find out how your business can take advantage of the latest in Cloud-Based solutions. We bring it all together, so your cell phones and telephone extensions work together for your business success.
Believe It, Now Achieve It
Ashar Communications has a vast array of knowledge and experience. How can we add technology to reduce your costs and increase your output, your sales and give you more time for yourself and family?
We want to bring inspiration and innovation to all our customers. It is no longer how you see your business growing, but thinking outside the box, where do you want to be? In today's world of communications – Mobility, Internet, Cloud and the Internet of Things (IoT), we are limited only by our imagination.
We work with companies that dream big and will find ways to fulfill dreams.
Our goal is to work closely with you to truly understand your unique history and plans for success. We look past the obvious and listen to what you are saying. Yes, we are talking, and you are telling me a lot, but what is it you are not saying? Do you know?
If I don't know what I don't know, how can I know if I don't know?
Ah yes, a complex question. By spending time with you and listening, we can pair solutions you may have never considered.
The Man Behind Your Success
After several years of working in the Telecommunications and Internet worlds, Ashar Communications is now working directly for customers who can benefit and realize their own desires.
On July 30, 2018 Ashar Communications was registered with the BC Registry Services. The name Ashar is taken from the names – Ashley and Sharese.
When you get to know Greg Muirhead, you will find an open and caring person, who looks past the obvious and sees the true potential in people and opportunities. As a positive person, he always looks at opportunities with a "CAN DO – Let's get 'er done" attitude.
Born in Vancouver, his father was a dentist and he spent his early years in the Kerrisdale area. His primary school years were at St. Georges, where he learned the true meaning of Respect. He eventually graduated from Prince of Wales High School and then moved on to BCIT, where he graduated with a diploma in Marketing and Sales.
Greg's career began with extensive sales training and learning how to hunt for new business opportunities. His first sales job with Harris Lanier saw him Cold Calling in the downtown business core of Vancouver. After several different sales positions, he found his true calling in the Telecommunications Industry. Eleven years with North American Telecommunications Group taught him the basics in this fast paced and changing industry. Telephone systems set up with VoIP technologies have become powerful tools to keep our users engaged and reachable.  New applications are available as our daily needs change.  Economies of scale offer truly reduced costs.
Mobility is big part of our workday. With cell phones and Unified Communications, we are no longer tied to a desk. Greg has seen how the integration of mobile apps and the cloud has released businesses to be even more productive. IOT, or the Internet of Things has allowed us to do what we only dreamed of ten years ago. Greg has worked with Bell and Telus to see how mobility has changed our everyday lives. As an Agent working with Bell, Telus and Rogers, he is able to unlock new plans that better meet cellular needs while reducing the ongoing costs.
Relationships are most important to Greg. He has always been very active in the community he lives in. A long-time resident, now living in Delta, he has been active in local church and business community. As a Director of the Ladner Business Association, his position in the community grew and he was asked to Chair the Delta Chamber of Commerce. His main focus as the two-term Chair of the Delta Chamber of Commerce from 2008-2010 was to grow business in Delta, but make sure we had fun doing it.
Greg continues to be active in business and community markets. He is a Past President of the Rotary Club of Tsawwassen and will be the Rotary Assistant Governor for Richmond and Delta – District 5040.
Helping those you care about lets them help you back.
Do you want to grow your business?